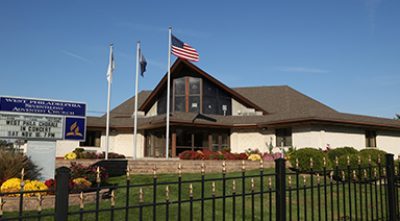 The West Philadelphia Seventh-day Adventist Church was organized under the name, Elmwood First SDA Church on January 24, 1942. Its formation was the result of Bible studies held by Ebenezer members in the homes of people in South West Philadelphia. These studies began as early as 1934. However, the real move to plant a church in this area was made in the summer of 1940. Elder F.B. Slater held a tent meeting at the corner of 84th Street and Bartram Avenue. At the close of the meeting, twelve souls were baptized and a store front was secured on the corner 86th Street and Eastwick Avenue as a meeting place. Here they met regularly along with some other members of Ebenezer SDA church until they were organized in 1942.
The 34 charter members that made up the fledgling church experienced some trying times in their struggle to stay alive during the early days. The fact is that the record shows that in 1947, the membership stood at 19, with only 11 active. But under the leadership of pastors like Elders F.L. Bland, A.V. Pinkney, G.E. Peters, C.D. Brooks and C.L. Brooks, they successfully resisted the idea of disbanding and rejoining the Ebenezer Church.
In 1962, the church purchased a building at 55th Street and Haverford Avenue. Here they experienced a steady growth. In 1976, under the leadership of Elder George Braxton, he immediately started to build a church, so that the congregation could continue to grow. Under his strong leadership, the present building was erected, and now the membership stands at over 700.